Folk Arts Focus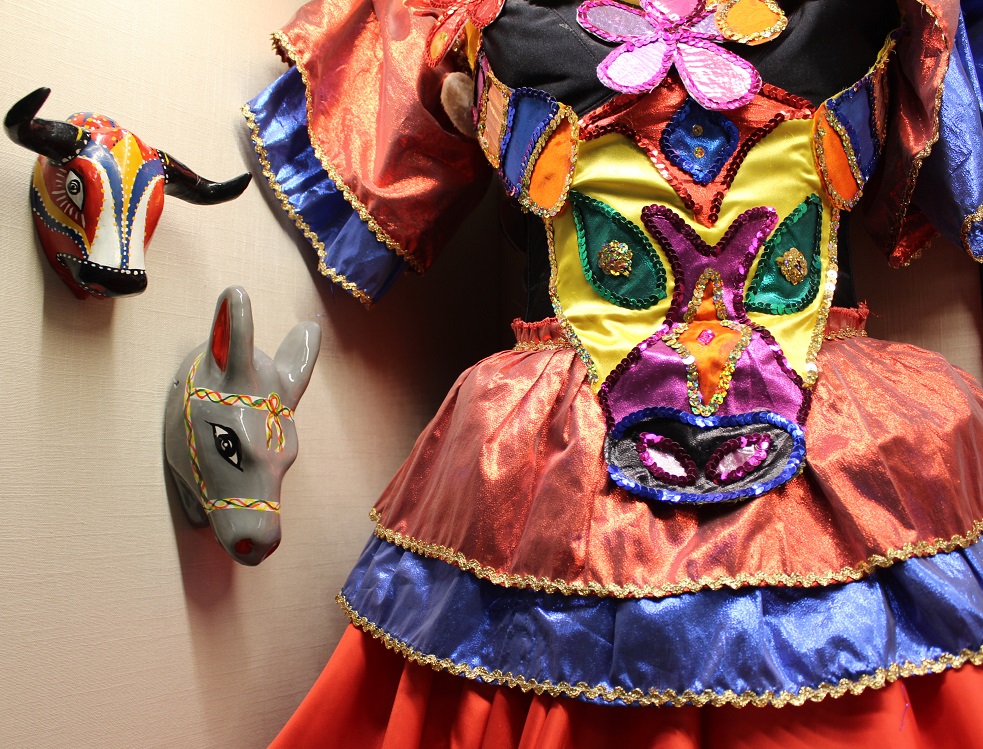 Missouri Folk Arts curates small folk and traditional arts exhibitions in collaboration with artists and with Mizzou's Museum of Art and Archaeology staff.
2019:

The inaugural exhibit, installed at Mizzou North in 2019, featured a carnaval story dress crafted by Colombian traditional artist Carmen Sofia Dence with relevant objects illustrating the festive pre-Lent traditions of Dence's hometown of Barranquilla. The dress, a tribute to Congo dances, features a bodice appliqué of El torito (the bull), a popular carnaval character. In the overskirt, carnaval eye masks alternate the circumference with additional Congo dance characters. The red, blue, and yellow ruffles at the skirt's hem reference the Colombian national flag.
2020-2021: Missouri Folk Arts delayed installation of its second exhibition due to campus closures. Working with Banjo Creative and Museum of Art & Archaeology preparator, Missouri Folk Arts created a digital, online exhibition, A Sampler of Missouri Blacksmiths, available to download as a PDF in 2020, followed by a small physical exhibition when the Museum reopened in 2021. That exhibit included a Colonial lamp donated by Bernard Tappel with a card directing visitors to the digital exhibit. In spring 2021, Missouri Folk Arts and Banjo Creative revised the PDF for a full-color publication that was distributed to the featured blacksmiths, Blacksmith Association of Missouri annual conference attendees, and Museum visitors. 
Future exhibitions: 

In late 2023, Missouri Folk Arts will install its first Folk Arts Focus exhibit in a dedicated all case near the Hitt Street entrance to the newly renovated Museum of Art & Archaeology and Museum of Anthropology on the lower level of Mizzou's Ellis Library. Plans for a series of exhibitions in 2024 and 2025 are underway to celebrate the 40th anniversary of the Traditional Arts Apprenticeship Program.