Focus Exhibit: A Sampler of Missouri Blacksmiths
In 2019, Mid-America Arts Alliance and Missouri Folk Arts partnered to create a blacksmithing exhibition at the M-AAA offices at the Crossroads in Kansas City, Mo. Bernard Tappel of Osage Bluff Blacksmith Shop provided expert input and loaned objects. That exhibition and accompanying "hammer in" with Tappel and Mike McLaughlin were very well-received, but the event was short-lived. 
Fast forward to 2020, Missouri Folk Arts hoped to install a smaller version as the newest Focus Exhibit in March at the Museum of Art & Archaeology. Everyone knows how 2020 turned out.
Now, we are thrilled to offer the following digital exhibit, featuring objects by five Missouri blacksmiths–all previous master artists in the Traditional Arts Apprenticeship Program: Matthew Burnett; Ray Joe Hastings; Bernard Tappel; Pat McCarty; and Bob Alexander. 
Follow the link below to view the exhibit A Sampler of Missouri Blacksmiths. Keep your eyes open for video camera icons in the PDF; they can take you to short, video blacksmith demonstrations from previous Missouri Folk Arts' projects.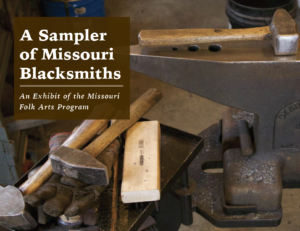 Additional thanks to Mike McLaughlin, Bob Clark, Bernard and Patti Tappel, and Matt Smith.
Posted March 22, 2021 by Missouri Folk Arts Program
Related