200 Stories for Missouri's Bicentennial, JULY 2021
200 Stories, July 2021
In Missouri's bicentennial year, Missouri Folk Arts will share 200 stories over the course of 52 weeks in 2021 about folk and traditional arts in the Show Me State.
We kicked off July with Story 97 and wrapped up with Story 110.
97 of 200
Darold Rinedollar, TAAP Master Artist: 1986, 1987, 1988, 1989, 1992, and 1994
Darold Rinedollar, a blacksmith for half a century, is best known for his horseshoeing and agricultural blacksmithing – as well as fine decorative household work. His craft includes the tools and techniques of two eras; making horseshoes, hooks, and tools of the 1880s and returning to contemporary work in fashion gates, fences, and ornamental art.
He learned his trade from elder German blacksmiths in upstate New York as a young man – taking pride in his work and eventually going on to participate in our program as a master artist, where he instilled pride in one's craft to his apprentices. Mr. Rinedollar is considered a patient and willing teacher, his knowledge of ornamental ironwork being extensive and necessary for teaching future generations of blacksmiths the things they cannot learn from books alone.
98 of 200
Cesar Palacios, TAAP master artist: 2003
Cesar Palacios grew up in Calama, Chile and first learned to play music on the guitar; later, he mastered two traditional Andean instruments: the charango (a small stringed instrument) and the zampoña (a flute made of cane pipes). As an adult, Palacios toured extensively including with a musical group called SIKUS, that played at the Missouri State Fair in the late 1990s/early 2000s. During those events, Palacios told us he fell in love with the Midwest and Sedalia.
There, he was actively involved with Amigos de Cristo Iglesia Luterana, an outreach project of St. Paul's Lutheran Church in Sedalia. Via the project, Palacios taught music lessons to local Hispanic and Latino children who attended after school programs. In 2003, Mr. Palacios taught his apprentice Nestor Montenegro to play the charango in the traditional Andean style the master artist learned as a child.
In the 2013 YouTube video linked here, Palacios plays "La Magia del Charango."
99 of 200
Daniel Suarez, TAAP master artist: 2008
Like Cesar Palacios, we at MFAP met master artist Daniel Suarez via Elvera Satterwhite in Sedalia, and their outreach work with Amigos de Cristo Iglesia Luterana. Mr. Suarez, too, was an alumni of the band SIKUS that played, among many other locations, at the Missouri State Fair.
Daniel Suarez hails from Venezuela and has mastered another small, stringed instrument–the cuatro, a four-stringed instrument that he first picked up at age 4. Decades later, he was often employed as a professional musician, touring and playing cuatro in everything from traditional Venezuelan folk music and jazz to pop.
100 of 200
Ray Joe Hastings, TAAP apprentice: 1996; TAAP master artist: 2003, 2007, 2011, 2019, 2021
Ray Joe Hastings' love for gig making started as an eager gig collector, his initial interest sparking further exploration into how gigs were made. Mr. Hastings was an apprentice in our program in 1996, which started his journey as a gig maker and eventually as a teacher of this ancient fishing method as practiced in the Ozark Scenic Riverways region.
Aside from participating in the Traditional Arts Apprenticeship Program as a master artist, Hastings has done extensive research to document the history, techniques, and methods of the sport that still thrill Ozark fishers today. He wrote and published a book that allowed readers to meet past and present gig makers, showcasing their designs of the various gigs and spikes used throughout the years and into today. Hastings' love for his craft and willingness to pay homage to those who came before him are the reasons the next generations of Ozark hunters, fishers, and historians will continue to enjoy this tradition.
For the 100th story, we are incredibly happy to share a special short film from

Ozark Vitality

that features Ray Joe Hastings and his 2021 apprentice Anthony Martin. Take a look, and learn about their connections to each other and the tradition.
102 of 200
Oliver Kenyi, TAAP master artist: 2014
Oliver Kenyi, master Murye drummer, keeps pace for the Kuku people of South Sudan living in the American Midwest, keeping the tradition of Murye dance and music alive. According to Mr. Kenyi, Murye has roots in old warrior traditions, sending off warriors to war, and hopefully, welcoming them home. Murye is also performed for funerals of elders and to commemorate ancestors at different times of the year. The dance is meant to celebrate life and honor both the past and present. Drummers, like Kenyi, are integral to the tradition.
Oliver Kenyi recalls first learning Murye from six years old, from elders, with other young boys and girls in his South Sudan village. While growing up, Kenyi was only allowed to play Murye with children his own age; only able to imitate what they heard and saw. The young drummers attended dances and paid close attention. Later, as a refugee in Moscow and then a newcomer to the United States, displaced by war in his home country, Kenyi continues to drum, sing, and dance, keeping a tradition close for himself and his relocated community.
In the self-recorded video below, Oliver Kenyi provides a glimpse into a lesson that he and his friends conducted at a local community center in Kansas City, Mo. in 2014.
103 of 200
Beto López, TAAP master artist: 1993
Heriberto "Beto" López is known for mastering mariachi trumpet and for leading the popular Mariachi México band that has been so popular at an array of events in Greater Kansas City. In 1993, he taught Antonio Sierra, Jr. through the apprenticeship program and introduced MFAP staff to another master mariachi musician. Additionally, Mr. López and Mariachi México performed in events for Missouri Performing Traditions, a project coordinated by previous folk arts specialist Julie Youmans.
Of his ensemble, Youmans wrote: Mariachi México performs their spirited repertoire with the traditional instruments typical of mariachi music: violins, trumpets, guitars, and the large bellied guitarrón. The music developed in the state of Jalisco, in western Mexico, with roots that extend back to the pre-Colombian era. Over time, the instrumentation has evolved from a smaller ensemble to include the trumpets, violins, and guitarrón of today. Widespread radio broadcasts beginning in the 1930s helped popularize the form. Now mariachi music can be heard throughout Mexico, the southwestern United States, and in many U.S. cities. Mariachi México does the songs in three-part harmony. They focus on the son jaliciense or the song from Jalisco, but also include romantic boleros, dramatic pasadobles, and swift huapangos. The particular complex rhythms are distinctive to mariachi and are punctuated by gritos, stylized yells making for very high-energy programs."
103 of 200
Juan Tórrez, TAAP master artist: 1994, 1995
According to Beto López (see story 102 of 200), Juan Tórrez brought a great talent to Mariachi México. Mr. Tórrez learned the guitarrón by ear from his father. With radio broadcasts, according to an essay by previous folk arts director Dana Everts-Boehm, the more traditional large harp used in mariachi was replaced by the guitarrón "in order to produce a richer sound for the radio."
Mr. Tórrez possesses a vast repertoire of tunes learned by ear (and by heart). He has delighted in fulfilling requests from audience members to play tunes from a number of Mexican regions. He also has prided himself on his versatility in backing up singers who he was less familiar with. He, Mr. Lopez, and Mariachi México enlivened many celebrations and milestones in greater Kansas City over the years.
104 of 200
Wes Brown, TAAP master artist: 1989
Wes Brown was the first, and one of a very few, old-time music backup musicians to participate in the Traditional Arts Apprenticeship Program. While old-time music's metronomes might appear side-by-side with lead musicians on a contest stage, at jam sessions, or dances, they might not get the same attention. In addition to teaching Jim Brauer, his 1989 apprentice, Mr. Brown appeared regularly "behind" many Missouri old-time fiddlers, like Johnny Ray Bruce. Brown also was a presenting artist with several old-time musicians who performed to showcase a late 1990s PBS program called River of Song, including John Griffin, Bob Holt, Pete McMahan, Taylor McBaine, Dean Johnston, Vesta Johnson, Kelly Jones, and Lloyd Lalumondier (fiddle); Delia Knipp (backup piano), Kenny Applebee and Alvie Dooms (backup guitar).
Wes Brown, though, has been a constant at Missouri old-time fiddle contests, where over the years he backed Mr. Bruce, Jimmy Skiles, Jimmy Gilmore, Kelly Jones, Charlie Walden, Bill Kearns, Hank Thompson, Bill Eddy, Travis Inman, and so on. In the video below, Mr. Brown (in the Royals cap) and John Stewart back Taylor McBaine at the 1989 Bethel Fiddle context in the Senior Division.
105 of 200
Lois Mueller, TAAP master artist: 1989 and 1990
Lois Mueller taught two apprentices Barbara Gillespie and Debbie Hicks. Ms. Mueller quilted for family and special occasions; she quilted solo, with guilds, and with friends – a true quilter through and through. She also demonstrated often, and, alongside her husband, Bob Mueller, she worked with the all-volunteer non-profit Missouri Friends of Folk Arts on projects, especially the Frontier Folklife Festival under the Gateway Arch.
Among her collaborations, she is known for founding the Gateway Quilters and for working with her friend, the quilt scholar Cuesta Benberry, on special projects. The photo of "Afro-American Women and Quilts" below, from the Quilt Index, is an example of a collaboration where Ms. Mueller, Ms. Benberry, Annette Ammen, and the Kinloch Community Center Ladies came together to turn the scholar's vision into a teaching tool.

Quilt Index citation: "Benberry, Cuesta; Ammen, Annette; Mueller, Loi. Afro-American Women and Quilts. 1979. From Michigan State University Museum, Michigan Quilt Project; Michigan State University Museum Collection; Quilts and Human Rights. Published in The Quilt Index, https://quiltindex.org/view/?type=fullrec&kid=12-8-5240. Accessed: 07/14/21"
106 of 200
Pearl Forrest, TAAP master artist: 1990, 1993, 1995
Master quilter Pearl Forrest (1914-2001) was interviewed in 1992 by Andale Gross and photographed by Tim Barcus for a story that appeared in the January 10, 1993 Moberly Monitor. That year, Mrs. Forrest was teaching her niece Dorothy Wheeler in Missouri's apprenticeship program. The very first line of the article, a quotation from Mrs. Forrest, definitely captures a reader's attention: "Quilting keeps you out of meanness."
At that time, the 78-year-old quilter recalled how she learned to quilt at age 12 from her mother and five older sisters and admitted not really enjoying the craft as a teen. In 1992, though, she made 20 quilts for family members or "those in need," quilting alone or with others, like her niece. She sewed by machine on the back porch and quilted by hand on a frame in her kitchen. In the article, she stressed two of her process preferences: to always use a thimble, and to only use new fabrics, not salvaged. The first protected the quilter, and the second protected the stability of the quilt.
Speaking of the local Moberly press, via Newspapers.com and Ancestry.com, we see that in the early 1930s, young Pearl Wingert (later Forrest) regularly published articles in the Monitor, reporting on the comings and goings in her rural New Hope community. And, in the Magic Free Press, on August 05, 1970, we read that Mrs. Pearl Forrest had a very successful showing at the Renick County Fair, winning ribbons in quilting (of course) and crocheting, as well as for her several entries in "household science," from baked goods to flower and vegetable gardening.
107 of 200
Donald Foerster, TAAP Master Artist: 1991, 2007
Donald Foerster, master jonboat* builder of Van Buren, loves building boats to withstand Missouri's Current River. With the Ozark area's waterways known for being clear, cold, rocky, and fast flowing, it's no surprise that the locally designed and built jonboat survived for many years as a mode of transportation and a means for fisherman to find the best fishing spots for gigging and sportfishing.
Foerster, in particular, is an Ozarks local through and through, and built jonboats since he was a teenager for personal use and for others in his community, including at Ozark National Scenic Riverways with mentor Bob Shockley. Foerster demonstrated his skills at arts and crafts fairs throughout Missouri and shared his skills at the Speed Art Museum in Louisville, KY to document the differences between Ozarks and Appalachian boat building. Foerster promised Mr. Shockley as a teen that if he was taught how to make boats, he would not let the craft die – and this is a promise he kept!
*The spelling of the traditional boat is disputed (johnboat or jonboat). Here, we use the spelling preferred by Donald Foerster.
108 of 200
Michael Davis, TAAP Master Artist: 2020
Michael Davis uses hand tools and traditional techniques to produce variations on the American longrifle, including as it would have been first used in the early 19th century Ozarks. He's familiarized himself with these guns as a young boy while hunting. At 14, Davis learned to repair a gun for the first time, and his love for creating developed from there. At 20 years old, after joining a club called Coalfire Creek Muzzleloaders in Alabama, Davis met, then apprenticed with Mississippi gunmaker Jack Garner.
Mr. Davis worked to learn the American styles of longrifles; learning from more gun makers in the United States who taught him his sense of architectural accuracy. Davis feels that learning this process is a lifelong growing process, and he would never hesitate to teach a deserving student. Even with his work featured in national magazines, on the Discovery Channel, and via many demonstrations around the United States, Davis still believes that teaching and sharing the tradition is some of the most important work he can do to insure its future. He's settled in the Missouri Ozarks and fulfilling that goal.
Check out his video demonstration with 2020 apprentice Travis Bauer below.
Bernard Allen, TAAP Master Artist: 1991 and 2008, 2017
Bernard Allen (Naylor), a retired educator and former mayor, participated in Missouri's apprenticeship program four times. In 1987, Mr. Allen apprenticed in woodworking with Dr. James Price. Since then, Allen has transferred those skills and taught three apprentices the art of luthiery – building stringed instruments.
Along with luthiery, Bernard Allen is a bluegrass musician, playing fiddle and mandolin. Allen is quoted as saying, "Instrument making combines two of my favorite activities, woodworking and music."
Bernard Allen's community prioritizes traditional bluegrass music as a form of entertainment and coming together. So, he knows people will always need musicians and people who can build and repair stringed instruments! While Allen is known to play the instruments he creates, he is also known to always have several instruments in his shop – and because of this he has been asked to do many demonstrations throughout the years at schools, craft fairs, and festivals.
In 2019, Mr. Allen shared his Then & Now: Apprentice Journey with Deborah A. Bailey.
110 of 200
Luther "Luke" Medley (1932-2013) first participated in the Traditional Arts Apprenticeship Program as an apprentice to Bernard Allen (story 109 of 200), who taught Medley in 1991 to build violins. The apprentice eventually attained master status himself, teaching his own apprentices in 1996 and 1997. After retiring as a utility lineman, Medley thought instrument making and repair work would bring in a "few extra dollars" for his favorite pastime, "goin' fishing."
Luke Medley joined a cadre of six featured luthiers, including Mr. Allen, in Missouri Folk Arts' traveling exhibition "Work is Art, and Art is Work" in 2007-2008. Among the objects included in the traveling exhibition was one of Medley's upright basses, built in his workshop with power tools worthy of an episode of "Home Improvement." Medley was known to power his tools with lawn mower or sewing machine motors, and air compressors. With them, he turned out upright basses popular on the bluegrass music circuit that he loved.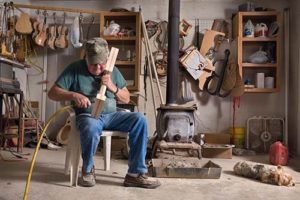 Photo by Rita A. Reed for Work is Art and Art is Work exhibition
Related