BOUILLON – A MISSOURI FRENCH TRADITION, BY ROBERT MUELLER
Welcome back once again to Stories from the Field and a new post in our Show-Me Folk blog. The blog is our dedicated space for staff, student workers, traditional artists, cultural experts, consultants, and community scholars to share photo essays on an array of topics in Missouri's traditional arts and folklife.
Our latest guest blogger is Robert (Bob) Mueller. Bob is a local historian in Ste. Genevieve who searches out the history, genealogy, traditions, food, and cultures of Missouri's oldest settlement. He is a member of the local Art Guild and a past president of the Foundation for Restoration of Ste. Genevieve. He is active in the town's tourism industry having served on the City's tourism boards and by leading tours and giving presentations. He does re-enactments of the 1780 Colonial and Civil War time periods. Bob is also a member of the State Historical Society of MO Board of Trustees and serves on their executive committee. Bob and his wife live in a restored 1873 house in Ste. Genevieve's Historic District.
We at the Missouri Folk Arts Program met Bob at a Community Scholars workshop we presented in Ste. Genevieve in 2013. In our ongoing interest in the art and cultural significance of foodways, we are thrilled that Bob contacted us to share another Ste. Genevieve culinary tradition, after reading Mary Peura's post about German liver dumplings from The Anvil. 
We hope you enjoy Bob's article about a Missouri French and German seasonal tradition, including recipes, testimonials, and photos. 
Bouillon – A Missouri French Tradition
by Robert "Bob" Mueller
In the Mid-Mississippi Valley, bouillon is both a type of food and a description for a party involving the bouillon soup.
Bouillon soup was the pot-au-feu of the Mid-Mississippi Valley.  Many early inhabitants of the Pays du Illinois or Illinois Country near Ste. Genevieve were French Canadians by birth and the Canadians' love of soup became integral to the local cuisine.  While various kinds of meat can be used to make a bouillon, chicken has become the traditional main ingredient in the Missouri French area.
Early visitors to the area wrote of the local inhabitants' penchant for bouillon and other soups.
Henry Marie Brackenridge, a seven-year old boy sent from Pittsburg to Ste. Genevieve in 1793 to learn French, later wrote in his book "Recollections of Persons and Places in the West"
"With the poorest French peasant, cookery is an art well understood. They make great use of vegetables, and prepared in a manner to be wholesome and palatable. Instead of roast and fried, they had soups and fricassees, and gumbos, (a dish supposed to be derived from the Africans) and a variety of other dishes."
John Reynolds, one of the early Illinois governors wrote in his book "History of Illinois, My Own Times" about the area's French celebrating the King's Ball on the 12th night.
"In these merry parties, no set supper is indulged in. They go there not to eat, but to be and make merry. They have refreshments of cake and coffee served round at proper intervals. Sometimes bouillon, as the French call it, takes the place of coffee."
William C. Carr, one of the early American lawyers in the area, was no fan of the French food found in Ste. Genevieve. In an 1804, letter he wrote about local French cuisine
"The breakfast is composed of a single cup of coffee with some bread without butter; the dinner of soup, very seldom of any other kind of meat besides that of which the soup is made together with lettuce of which the French are extremely fond, using with it some kind of oil, commonly Bear's oil."
Local custom was that the best bouillon was made with a chicken stolen from a neighbor's hen house. That be said, it was proper etiquette to invite that neighbor to the bouillon party and who would often say "This is the best bouillon ever". This custom existed not only in the Missouri French communities but also in Cahokia on the east side of the Mississippi. A November 15th, 1884 Ste. Genevieve Fair Play newspaper article stated "The Bouillon season is upon us and two of our restaurants regale our citizens nightly with excellent chicken broth with the above unpronounceable name. But we suggest that no bouillon is so good as that made over a log fire out of scrumptiously procured fowls. Lock your hen houses."
Some frowned on this stealthy custom and wanted it curtailed. In 1903, the Missouri Legislature passed a law-making chicken stealing a felony.  The Ste. Genevieve Herald on May 23, 1903 wrote "After the 21st of June, 1903, anyone convicted of stealing any domestic fowl in the night time will be guilty of a felony punishable by imprisonment in the pen. The law was passed by the last legislature. So, bouillon parties will have to steal their chickens in the day time."
Evidently the law did not deter local residents from the long-standing custom of procuring purloined chickens for their bouillons.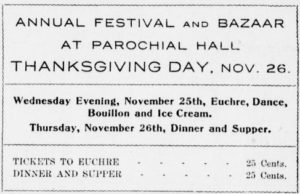 In the February 16th 1907 Ste. Genevieve Herald, an article reported "Raiding of hen houses here about still continues. The cold weather creates an appetite for bouillon." And followed up on January 29, 1910 by reporting "Chickens have quit crowing here as a raid has been made on them for bouillon."
While many of the traditional French dishes did not appeal to the Germans who began immigrating in mass to Ste. Genevieve in the 1830's, bouillon was one which the Germans readily adopted.  In some German families, a little tomato juice was added to the broth during the cooking process. Newspaper articles around the beginning of the 20th Century demonstrated the popularity of this dish. Bouillon was served at local restaurants such as Mrs. Kennard's who had it on the menu every day of the week except Friday and Siebert's Book Store advertised a tomato bouillon. Bouillon became a part of local fund-raising activities which included some strange combinations such as oyster and bouillon suppers, euchre and bouillon and even ice cream and bouillon. It was a part of club meetings, card games, family gatherings, dances, banquets and as a fitting end to the New Year's Eve long standing French custom of running the Guignolée.
Bouillon recipes vary from family to family and even within the same family as the following recipes from my aunt and uncle demonstrate.
*****
An article about bouillon was published in the August 7, 1980 Ste. Genevieve Herald about my uncle, Judge Charlie Weber, who had a German heritage. It included his recipe for bouillon. Charles and his siblings grew up during the Depression and recipes like bouillon were used to feed the large family.
Charlie Weber's French Chicken Bouillon
In a large pot…. Preferably a granite canner pot
5 to 6-pound stewing hen cut into pieces
Enough water to cover (4 – 6 quarts)
4 stalks celery
2 medium onions
6 sprigs of fresh parsley
½ tsp pepper
Salt to taste (1-2 tbsp.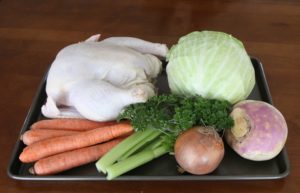 Boil chicken until meat can easily be removed from the bone. Remove the chicken. Drain all the grease from the top of the liquid. He says that removing the grease is the trick for a good bouillon.  Strain the broth and return to the pot. Peel and halve 6 – 8 carrots, 4 medium size turnips, 4 medium size potatoes and add to the broth. Boil for 10 minutes and then add 2 onions left whole, 1 small head of cabbage quartered and 4 halved stalks of celery to the broth and cook until tender but not mushy. You can cook the vegetables in a cheese cloth bag for easy removal. Return the chicken to the broth and heat through. Remove the chicken and vegetables and serve on a platter. Serve the bouillon in cups.
*****
Now my Uncle Charlie's sister, Angeline Weber Robertson, grew up on the same farm eating their mother's chicken bouillon but she has a different recipe which shared with me in 1982.
AUNT BUDDY'S (ANGELINE ROBERTSON) CHICKEN BOUILLON RECIPE
5 to 6-pound stewing hen
2-3 cups tomato juice
salt and pepper to taste
Half head cabbage
3 – 4 celery pieces (use the leaves also)
Medium size onion
5 or 6 large carrots
2 or 3 turnips (if available)
In a large canner type pot, bring the liquid to a boil, just barely covering the chicken. Add the tomato juice. Boil very slowly (above a simmer) for about 2 hours and test for doneness. Add some water if it appears too strong. Also test for tomato juice – start with only 2 cups. When tender, add all the vegetables and cook until they are tender. These can be put-into a "bouillon sack", or put in whole whichever you prefer.
When the vegetables and the chicken is thoroughly cooked, remove the chicken and debone. Remove the bouillon sack of vegetables. Serve the broth first with some crackers and then serve the chicken and vegetables.
NOTES: A hen which has extreme amounts of fat will cause the bouillon to be too greasy. Skim off with a spoon.
The idea of the "bouillon sack" was to have your soup clear of any of the vegetables. Sometimes she put them into the soup without it.
Another idea is to have your grocer or butcher saw the hen in half, both for cooking purposes and to freeze half for another pot of bouillon.
The whole hen should feed 10 – 12 persons
*****
Back in December 2015, I posted on one of our local Facebook pages, Remember in Ste. Genevieve When, asking about bouillon and their favorite time to have a bouillon. These are some of the answers that came back.
Dolores Bohnert – My mother always made it for New Year's Eve. Made it with chicken and then made chicken salad with the chicken.
Jean Griffard –  We always had the chicken soup bouillon. Made from and old fat stewing hen…cooked slowly for hours…and my dad thought all it needed was that and the tons of onions…and it was a good broth with chicken. We slowly added veggies to the "soup". Veggies were good for you, we heard…Talk about spoiling "HIS SOUP!". I only witnessed it once when my aunt threw in a homemade can of tomato juice, and I said, "you're doing that?" She said, "Of course!" I thought that was tastier, considering I like veggies, and before that, I had no idea some added that to the "Chicken Soup". … Ah, the memories
Iris Vincent – I still like to make homemade noodles with the bouillon – also reblies. They are so good.
Note: Reblies (also called Rivelies are Reblys) are made from just flour and egg. The flour and egg are mixed with your fingers until small lumps form. They are added to the boiling soup and allowed to cook. It's a way to make the soup a little heartier and that was important in our farm family that included six hungry boys. Reblies came to Ste. Genevieve with the early Germans who immigrated from the Black Forest region of southwest Germany.
Mary Huck – My Mom made it without tomato juice and it was delicious. My mother-in-law put tomato juice in hers along with all kinds of veggies and it was very good too. I often long for my Mom's bouillon!
Connie Meyer Sehr –  We had it every Christmas Eve at my mother's house. We couldn't wait to have it with her chicken salad sandwiches. She always made it with a hen. There is a difference in the taste. We often ate it after Midnight Mass. We still try to carry out the tradition in the Meyer family. I crave it every Christmas.
Gerry Bahr Klein –  We make it both ways. I think we are going to make some tomorrow. I remember Mother making it both ways also.
Jo Ann Debrock – MY Grandma Siebert made chicken bouillon every Christmas evening for the entire Siebert clan. I never knew why she made it except it was good for a large group. I see now that bouillon must be a Ste. Genevieve tradition. Grandma's never had tomato juice in it that I remember, but I loved hers and looked forward to it every year. Thanks Grandma for this and so many other memories!
Juanita A. Wyman – My sister Doris still makes mom's bouillon and chicken salad. Always loved it on Christmas Eve. No tomato juice used.
Kathy Dempsey – My mom made chicken and bouillon every winter usually between Christmas and New Year's Day. I sure did like it!!! No tomato juice in hers.
While not as prevalent as in years gone past, Ste. Genevieve families still make bouillon especially during the Christmas season. Bouillon on a cold winter's night continues to evoke those wonderful food memories from our youth and reminds us of past get-togethers with family and friends. Bouillon continues to be chicken soup for the soul in historic Ste. Genevieve.
So, procure yourself and old stewing hen from the grocery store since it is rare these days to have a neighbor with a chicken house, cook up a big pot of bouillon and invite your family and friends to an old time French bouillon party.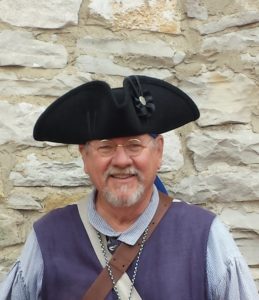 Bob Mueller
Ste. Genevieve, MO
November 2017
Related