The Past and Future of Wyandotte Beadwork, Kim Garcia-Artist Profile by Nathan Lee McAlister
"You're not going to learn something until you're ready to learn it." Kim Garcia
Over the last few years, Missouri Folk Arts has collaborated with community documentarians to identify traditional arts regionally; document traditions locally; and share Missouri stories more widely. 
Nathan Lee McAlister

visited southwest Missouri and Wyandotte beadworker Kim Garcia on behalf of Missouri Folk Arts and shared an artist profile and photos with us.
Our collaboration with Nathan was made possible thanks to funding from

Mid-America Arts Alliance

 with Folk & Traditional Arts funds from the 

National Endowment for the Arts

. Thanks to all, and especially to Kim Garcia and Nathan Lee McAlister.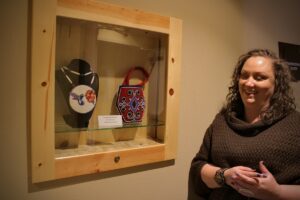 Wyandotte beadworker stands in front of an exhibit case featuring two pieces of her work at the Wyandotte Nation Cultural Center and Museum in Wyandotte, Oklahoma. Photo by Nathan Lee McAlister
The Missouri Arts Council, the National Endowment for the Arts, the Museum of Art and Archaeology at the University of Missouri, and individual donors provide support for the Missouri Folk Arts Program and its projects.
Related