200 Stories for Missouri's Bicentennial, February 2021
200 Stories, February 2021
In Missouri's bicentennial year, Missouri Folk Arts will share 200 stories over the course of 52 weeks in 2021 about folk and traditional arts in the Show Me State. We kicked off February with Story 17 and wound up with Story 32. 
17 of 200
Leonard Smith, TAAP master fiddler: 1985, 1997
The first thing typically mentioned about the late old-time fiddler, Leonard Smith (1911-2000) is that he had to play his fiddle with one arm due to a serious injury. As seen in the video below, from a 1987 fiddle contest in Compton Ridge, Mo., Mr. Smith simply held the bow between his legs and moved the fiddle up and down to play the traditional tunes. [See the video's comments for a note from his daughter that explains the harrowing story of how Smith lost his arm as a young man.]
As an accomplished fiddler with a strong repertoire, Smith competed in and judged fiddle contests regionally. When he taught in TAAP's first year, Gordon McCann visited the Smiths' home in Stark City on June 18, 1985 to evaluate the master fiddler and his apprentice John Hardin. Mr. McCann recorded that lesson on audio cassette, which

Special Collections & Archives at Missouri State University

has digitized and posted on its YouTube channel here: https://digitalcollections.missouristate.edu/…/id/720/
In 1997, Mr. Smith returned to TAAP to teach a second apprentice through the project, Mildred Ivy. The team closed their apprenticeship with a performance for school children during a "Tuesdays at the Capitol" event for the

Missouri State Museum

, a longstanding partnership.
18 of 200
Arthur Treppler, master button box accordion player: 1985, 1987, 1989, 1990, 1993
The child of immigrants from Austria and Hungary, Arthur Treppler took up the button-box accordion as a teenager growing up on the southside of St. Louis. A veteran of WWII, he went on to work 26 years as a quality assurance specialist in aviation for the U.S. Air Force and Navy. With retirement, he had much more time to devote to the instrument and the traditional tunes he played by ear. In addition to his love of the accordion and polka music, Mr. Treppler was a devotee of stock car racing and aeronautics.
19 of 200
Born in 1923 to a family of farmers, Delbert Spray (Kahoka, Mo.) learned to play the fiddle early on in life, following in his father's footsteps. Mr. Spray met many people in his lifetime who enjoyed his exciting fiddle style that mixed older with newer styles popularized by top bluegrass fiddlers. Spray, one of the founding members of the Tri-State Bluegrass Association, spent much of his time traveling the festival circuit.
Folklorist and old-time fiddler Dr. Howard Marshall notes that Spray responded to the age-old questions about the difference between a violin and fiddle with: "You carry a violin in a case and a fiddle in a pillow slip."
Bonus post!
19.5 of 200
Earlier tonight, we shared a story about the late Delbert Spray, noting he'd followed in his father's fiddling footsteps.
Our friend, and Missouri's first state folklorist Barry Bergey let us know that he had images of the senior Mr. Spray to share. And here they are.
Thanks, Barry!
Albert Spray, center, with Lena Hughes, left. Braymer Fiddle Convention, July 3, 1973. Photo credit: Barry Bergey
20 of 200
*Missouri Folk Arts is excited to introduce its friends to one of the newest Traditional Arts Apprenticeship Program master artists. Pablo Sanhueza and his apprentice Brandon Cooper have been meeting regularly for months.
Like most traditional artists, Pablo Sanhueza attributes his family with inspiring him, especially two uncles, both music teachers and traditional Chilean musicians. They first immersed Mr. Sanhueza into the tradition, inspiring him to continue through high school and well beyond.
Since Sanhueza relocated to Kansas City from Chile in 1996, he's dedicated his career to the music of Latin America as a Latin jazz percussionist. In order to do so, he initiated a number of projects and ensembles, including Kansas City Latin Jazz Orchestra, the smaller Pablo Sanhueza Latin Jazz Band, Calle Vida, and Pablo Calle & the Subtropicals.
Follow Pablo's journey from his website, which documents recent media appearances, projects, and upcoming events: https://pablosanhuezamusic.com/
Check out this brief video from Pablo's Vimeo:
21 of 200
Perhaps one of our program's most influential master artists yet, Dr. Gladys Caines Coggswell is responsible for bringing each of this week's master artists into the Traditional Arts Apprenticeship Program's fold. This week kicks off with Dr. Coggswell to be followed with three master storytellers, who originally participated in TAAP as her apprentices. She certainly understands that experience herself, as she apprenticed in 1988.
Dr. Coggswell specializes in African American storytelling, focusing primarily on her family stories and personal experience narratives. Originally from New Jersey, after over three decades in Missouri, it seems Coggswell has woven herself into Missouri's cultural landscape, as a storyteller, singer, educator, author, and community scholar. Learn more at her website:

https://www.gladyscstories.com/
To hear Dr. Coggswell's recollections about participating in TAAP, check out the edited version of her "Then and Now: Apprentice Journeys" narrative history from the 2017 St. Louis Storytelling Festival.
22 of 200
Deborah Swanegan, previous TAAP apprentice and then master African American storyteller, grew up in a very close-knit family. There, she found many of the values and cornerstones prevalent in her stories. Ms. Swanegan attempted to take her love of storytelling on the road, before learning very quickly that she did not like nights in hotel rooms. Instead, she took storytelling to the classroom, where 12,000 students would become "storytellers" before she retired.
And, now, in "retirement," she continues to apply her skills in settings like Columbia Parks and Recreation's Adapted Community Recreation program.
Then, check out an edited version of Deb Swanegan's "Then and Now" Apprentice Journey" narrative history from the 2019 St. Louis Storytelling Festival.
23 of 200
Loretta Washington is yet another of Coggswell's apprentices turned master storyteller. She performs for a range of audiences and shares captivating stories from her lived experiences in the Bootheel, where she lived as a child with extended family who sharecropped on local farms. Ms. Washington also tells stories from her adolescent years in segregated metro-St. Louis, using engaging voices and movements to bring her stories to life. One of her performances at the MCC-Maple Woods Storytelling Celebration can be found here: https://www.youtube.com/watch?v=OzSej4XXXVk
And, yes, you can also check out an edited version of Ms. Washington's "Then and Now: Apprentice Journey" narrative history, which she shared at the 2016 St. Louis Storytelling Festival.
24 of 200
*Missouri Folk Arts is excited to introduce its friends to one of the newest Traditional Arts Apprenticeship Program master artists. Angela J. Williams and her apprentice Cynthia McPherson have been meeting regularly for months. *
Angela J. Williams became interested in storytelling early on in life, hearing stories within her family that elevated her curiosity. At just 19-years-old, Ms. Williams apprenticed with Dr. Gladys Caines-Coggswell, working diligently to learn, and now master, the complexities of traditional storytelling—complex for anyone, especially an introvert. Today, Ms. Williams and Dr. Coggswell remain close, often working as a team in their adopted hometown of Kansas City, where they look forward to telling stories and presenting workshops.
Williams is active in By Word of Mouth Storytelling Guild and festivals in Missouri. Learn more at her website: https://www.angelajw.com/, and enjoy this 2014 performance at her hometown Hannibal Public Library (recorded by her doting uncle).
25 of 200
* Missouri Folk Arts is excited to announce that Mr. Patrick is one of ten 2021 Traditional Arts Apprenticeship Program master artists. Bob Patrick and his apprentice John Dilsaver (Sparta, Mo.) have been meeting regularly for months.*
Bob Patrick began working as a restoration blacksmith in 1967. He originally worked in Ohio, before he relocated to Missouri, where he established Big Anvil Forge School of Blacksmithing, taught at craft schools, and smithed regularly at many, many conferences. Most notably, perhaps, Patrick is a founding member of the Blacksmith Association of Missouri. Though he moved to northern Arkansas, Patrick continues to participate in BAM—and helped to found BAM's counterpart in Arkansas.
Fun fact, Bob Patrick appears to hold the distinction of being the only artist to participate in TAAP as both a master artist and an apprentice in the same year (1990) and in two different art forms, blacksmithing and old-time fiddling with the late master fiddler Johnny Ray Bruce.
26 of 200
Dee Campbell Carter (Columbia) taught apprentice Elaine Fonville the sacred art of designing and tailoring choir robes in 1997. Reflecting the evolving aesthetics and traditions of her home church, and sister churches, Ms. Campbell Carter consciously married African textiles and motifs into her craft. During their apprenticeship, master artist and apprentice worked on robes from start to finish, from concept and pattern to full length robes and shawls. At that time, Campbell Carter stated: "I view my gift as missionary work to allow people to have the clothes they need at affordable prices. I feel a spiritual calling to have the clothes be creative and stretch their ability and talents."
Today, she continues her mission work, including advocacy for the physical, emotional, and spiritual health of her neighbors and local youth.
27 of 200
Marjorie Westfall Prewitt hailed from Missouri's Westfall family, whose white oak basket weaving tradition is legendary and extends back several generations. As a child, she learned from her father; their family was making very utilitarian products popular with farmers. She made sure to share the tradition with others, even teaching her nephew Ronald Westfall in TAAP in 1986.
Collectors find baskets by the Westfall family to be quite desirable. Westfall and Prewitt baskets are often "pinned" on social media at Pinterest and Instagram. Cynthia Jayne, Mrs. Prewitt's niece has written about the family tradition on her blog: https://cynthiajaynestudios.com/basket-weaving-all-about-the-westfall-white-oak-baskets/. Collector J. Anthony Stubblefield of JASKETS, whose family has been collecting Westfall baskets for decades, shared a post in 2014, showing a 1984 Prewitt basket alongside three others by her family members. https://jaskets.blogspot.com/2014/01/westfall-baskets-ii.html
28 of 200
The late Malverna Richardson (1923-1992) was born in Smithville, Mississippi but migrated north to metro St. Louis. She lived in the Beverly Hills' suburb of St. Louis County, and, as early as 1978, Ms. Richardson was on the radar of her neighbor Cuesta Benberry, who happened to be a scholar of national acclaim, who researched African American quilting traditions. Ms. Benberry referenced an interview with Richardson on more than on occasion, noting that she made her first quilt at ten years old. Later, when Richardson relocated to St. Louis by train, the quilter wrapped her children in a string quilt she'd made.
In 1987, Malverna Richardson taught apprentice Doris Ann Graham to take her quilting to the next level in TAAP. In the photo below, from a site visit by Margot McMillen, we catch a glimpse of a lesson between the TAAP team, who are stitching a quilt top at home.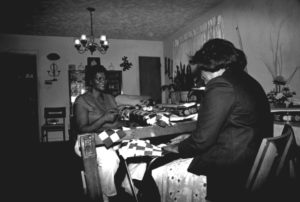 29 of 200
Bob Pinter is a master musician in the Slavic tamburitzan tradition, found specifically in the cross-border communities of Sugar Creek, Mo. and Strawberry Hill, Ks. in greater Kansas City. Mr. Pinter has noted that he was a Strawberry Hill boy who married a Sugar Creek girl, relocating to raise their family in her hometown. Both communities saw significant influx of Slavic immigrants in the early 20th century, with jobs in meatpacking and oil refining.
In 1969, Mr. Pinter co-founded The Tamburitzans, a community orchestra dedicated to playing traditional music. In 1988, Pinter taught in Missouri's apprenticeship program, teaching three apprentices, including his son Mark.
The archived news article linked below illustrated how vital tamburitza music was still to Pinter, his family, and their friends 40 years later. Traditional music, dance, and foodways continue to bind these communities, which continue to support their traditions with the orchestra, with adult and youth dance troupes, and with the annual Sugar Creek Slavic Festival. https://www.examiner.net/article/20100915/NEWS/309159723?fbclid=IwAR3EW_mkhu2H-WvSC1Uezq-69mQMyliqusbFeDTLQv9nvdYqWB7he0hQl78
30 of 200
Lillie Mabel Hall (St. Louis) started cooking as a child at home with her extended family. For TAAP, Ms. Hall applied to teach traditional "culinary arts." Very specifically, she taught her apprentices the traditional foodways that she dubbed "from garbage to gourmet," working with what some saw as less desirable, inexpensive, or throwaway foods: "Chicken feet soup is a dish we learned to make from the part of the chicken that no one else wanted to use, and it's very good."
She noted in her TAAP application that she was often called "Ma Hall, the Chicken Wing Lady" and had cooked for groups of all sizes, once preparing as many as 600 lbs. of wings for a 1985 Juneteenth celebration in St. Louis. "Cooking was our family trade so I started out in the business at a very young age. I remember my mother and grandmother taught me a lot about cooking even before then as I helped out at home." Beyond her family's influence, Ms. Hall explained that she traveled widely in Africa and the Caribbean and was certified as a vocational educator—all of which impacted her recipes. Still, she swore by her two most important cooking utensils, her right and left hands.
Photo description: Ms. Hall prepares her famous (potato) rolls, adding dry yeast to the mixture, for the annual Christmas Eve meal that she and her church sisters prepared annually. Photo credit: Margot McMillen. [We have the recipe, if anyone asks.]
31 of 200
Larry McNally (St. Louis) learned to play traditional Irish music by ear on the button box accordion as a child from both parents in County Laois. In his applications for Missouri's apprenticeship program, he has noted that he played regularly growing up in Ireland, then continued to play when he lived in England, and hasn't given up the tradition in St. Louis. He's taught lessons at St. Louis Irish Arts, played out at local pubs and events, as well as at home daily.
Mr. McNally has also been quick to point out what a complicated, even difficult, instrument the button box accordion is, though he is quite fond of it and the traditional tunes that still connect him to his homeland after all these years.
You can read more about Mr. McNally and other St. Louis artists in the Irish tradition in a 1994 essay by previous Missouri Folk Arts director Dana Everts-Boehm. https://mofolkarts.missouri.edu/…/upl…/2017/05/irish.pdf
Photo description: McNally teaches apprentice Margaret Gardiner in 2001. Photo credit: Deborah A. Bailey
Photo description: McNally teaches apprentice Margaret Gardiner in 2001. Photo credit: Deborah A. Bailey
32 of 200
Charles  D. Williams, master pianist, has played in his traditions for over 40 years, studying, then performing with the most legendary musicians Kansas City had to offer in the jazz scene and in the gospel circuit. Over the years, Mr. Williams has worn many hats: musician, musical director, producer, recording artist, and teacher.
His personal motto is "I believe in sharing my gift with others so that it will be passed on with the hope that they would do the same thing." In addition to two stints in TAAP, Williams established his Keyboard Academy, teaching students weekly.
Follow along with Mr. Williams and hear some of his most recent recordings on his website: http://www.charleswilliamspiano.com/
For a very recent jazz performance, check out the December Facebook Live studio performance with Everyday Strangers (listen to the whole thing, and advance to 14:00 to watch Mr. Williams take the lead on a tune). https://www.facebook.com/EverydayStrangersKC/videos/14467248742823 7
###
February 2021, 200 Stories, Published March 4, 2021 by MFAP staff
Related