THEN AND NOW: APPRENTICE JOURNEYS WITH GIGMAKER RAY JOE HASTINGS
Once again, we are happy to launch a Then and Now: Apprentice Journeys video on our YouTube channel! Take a look at an edited video from the live oral history of master gigmaker Ray Joe Hastings of Doniphan, Mo. [https://www.youtube.com/watch?v=CKowSlSM81M]
In April 2018, MFAP's Folk Arts Specialist Deborah A. Bailey had the honor to interview Mr. Hastings at the Community Center in downtown Doniphan, where he shared stories about his 1996 apprenticeship to the late Paul Martin of Bunker. After that initial apprenticeship, Mr. Hastings taught his own apprentices in 2003, 2007, and 2011. 
Our thanks again to the Ripley County Historical Society, Golden Light Center, and Ozark Vitality for assistance with planning and producing a fantastic weekend in Doniphan, that turned into a bit of a Traditional Arts Apprenticeship Program reunion with the five artists pictured below.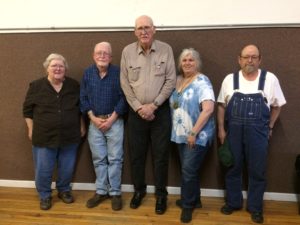 Storyteller Marideth Sisco, Woodworker Dr. James Price, Gig Maker Ray joe Hastings, Spinner and Fiddler Suzi Vause, Blacksmith Steve Eikerman   
We hope you enjoy this video, excerpted and edited from the longer interview by Folklorist and Videographer Darcy Holtgrave, PhD.
Related