ANN RYNEARSON, SEPTEMBER 27, 2018
It seems these messages come far too often now. We were heartbroken to learn that Dr. Ann Rynearson, who retired in 2009 from International Institute St. Louis, died in late September.
Ann Rynearson was influential for many years upon Missouri's Traditional Arts Apprenticeship Program. On occasion, she served as a volunteer panelist who reviewed TAAP applications for funding. On several occasions, though, she put her cultural anthropologist hat on, seeing the artistic expressions that newcomers carried with them as they resettled in Missouri; the best of those artists, she encouraged to apply to the apprenticeship program. In this vein, Ann also was instrumental in envisioning and producing the Festival of Nations, a beloved annual event and artistic showcase in Tower Grove Park each August.
Another legacy, among many, that Ann left was an exemplary example of her work, the 2003 film "Weaving the Bitter with the Sweet," available to view on Folkstreams. The film features the Mone and Vanxay Saenphimmachak, National Heritage Fellows.
Upon learning the news, MFAP Folk Arts Specialist Deb Bailey exclaimed: "what an impact she had in this world!"
We extend our heartfelt sympathies to Ann's family, her friends, and her IISTL colleagues–all who hold her dear. Rest in peace, Ann.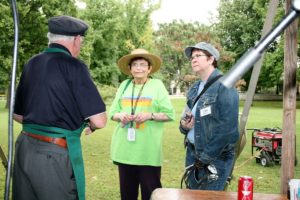 Ann is pictured here (center) at the 2009 Festival of Nations, where she gladly welcomed MFAP to celebrate twenty-five years of the Traditional Arts Apprenticeship Program in the "Culture Corner." Photo credit: Darcy Holtgrave
Ann's obituary is available to view here: https://www.legacy.com/obituaries/stltoday/obituary.aspx?n=ann-elizabeth-rynearson&pid=190367379&fhid=6778&fbclid=IwAR3F0x8r7Iva5rPEqrhLtmQJaSEVJ2I5NhhMRP8Q0O3GluqGfJ0umMTWmb4 
Related