THEN AND NOW AT THE ST. LOUIS STORYTELLING FESTIVAL, BY GLADYS CAINES COGGSWELL AND ANGELA WILLIAMS
Welcome back to Stories from the Field and the latest post in our Show Me Folk blog. The blog is our dedicated space for staff, student workers, traditional artists, cultural experts, consultants, and community scholars to share photo essays on an array of topics in Missouri's traditional arts and folklife.
By now, our blog followers know that the Missouri Folk Arts Program added a new component to the Traditional Arts Apprenticeship Program in 2016. With Then and Now: Apprentice Journeys, MFAP seeks to showcase and document previous apprentices who ultimately achieved master artist status in TAAP. In each of the first three years of the project, storytellers have been featured artists (in addition to a saddlemaker, a blacksmith, and a fiddler). The St. Louis Storytelling Festival has graciously partnered with MFAP to present Then and Now storytellers on The Stage at KDHX.
On May 1, 2018, MFAP featured master storyteller Deb Swanegan at KDHX's The Stage in St. Louis. Following are a story with photos from storytellers Gladys Coggswell and Angela Williams, both of whom participated in the event. 
THEN AND NOW AT THE ST. LOUIS STORYTELLING FESTIVAL
from GLADYS CAINES COGGSWELL & ANGELA J. WILLIAMS
My name is Dr. Gladys Caines Coggswell, and I was granted the opportunity to emcee this year's third annual Then and Now storytelling event. The St. Louis Storytelling Festival (SLSF) and the Missouri Folk Arts Program (MFAP) formed a partnership to present this event. Dr. Lisa Overholser is the Director of the SLSF, and Dr. Lisa Higgins is the Director of the MFAP.
Dr. Overholser opened the program, welcoming everyone, thanking them for coming, and also giving thanks to the many sponsors who help make this and the festival possible. The mic was then passed to me, and I introduced Angela Williams and Jim "Two Crows" Wallen, who were chosen by the SLSF to perform as Regional Tellers to open the main event. They both gave engaging performances telling historical and family stories, making us feel a sense of place and time as we laughed, as well as reflected on days gone by.
Following these short sets, it was time for Dr. Higgins to interview TAAP master storyteller–and former apprentice–Deb Swanegan. Being the great storyteller that she is, Deb held us spellbound from the beginning to the end while describing her amazing journey in her live interview with Dr. Higgins. Deb is married, a mother of three, and a retired public school teacher (in Hannibal and Columbia).
As it turns out, I was the master storyteller who taught Deb Swanegan, my apprentice in 1992 and 1993. During the apprenticeship, her commitment and growth was apparent. She took what she learned into her classrooms and had students begging for more. Since then, Deb was gaining popularity in the public, telling stories at schools, reunions, conferences, churches, and libraries. As her repertoire and fame increased, so did her desire to become a master storyteller. When Deb moved to Columbia, Mo., she immediately bonded with fellow teacher  Sheila Plummer. They applied to the MFAP for an apprenticeship, and the review panel chose them along with eighteen other teams for the 1994 program. Sheila was already telling stories; she went to the same church and participated in several clubs with Deb, too. Together, they took their stories back to the classrooms to engage students and enhance their learning abilities. Can you imagine how many children they have reached since that apprenticeship? These outcomes are basically why there is a Traditional Arts Apprenticeship Program in the first place: to pass traditional arts down to the next generation so that we have some idea of the impact upon communities and of how our ancestors lived–the good and the bad.
After the live interview with Dr. Higgins, Deb shared a story about her grandmother's passion for education. Her grandmother would save change in jars and tell Deb it was for her education. Eventually, Deb graduated not owing anyone a dime due to her grandmother's commitment.
Over the last three years, storytellers Loretta Washington, Deb Swanegan, and I were interviewed on The Stage at KDHX. Having attended all three, I recognized we had several things in common. Each of us told of the love for our grandmothers, infused with religion, education, morals, determination, and storytelling. Loretta Washington recalled she and her grandmother's deep love, as well as the song she taught Loretta, and that Loretta sings in some her storytelling performances to this day: "When You Think of My Homegoing, Don't Worry 'Bout Me."
Similarly, my great-grandmother told me the story "Why the Eagle Has A Bald Head" almost seventy years ago. This story taught me the value of life and caused me to understand myself and others better. The story has played and continues to play such a significant role in my life that I tell it today. The most impressive person in Deb Swanegan's life was her grandmother, who not only taught Deb the value of education; her grandmother learned how to make a way out of no way with the spare change she saved up over the years.
"What is the difference for you as a traditional artist between then and now?" is the final question Lisa Higgins asks in her interviews. From my perspective, the stories of "Then" are yesterday's stories. Most of them were told by our grandparents who were hard working, poor in finances, and rich in spirit and love. Some of them couldn't read or write and didn't know the difference between a pronoun and a noun. However, they instinctively knew how to tell stories that commanded our attention. These are the type of traditional stories that I taught to my apprentices. The stories of "Now" are a mixture of the "Then" stories and the "Now" stories because of the technological aspects of storytelling. We are all thankful that the changes don't constitute throwing out the traditional way of storytelling. How else would we be able to thank our ancestors whose shoulders we stand on today? How would we know where we came from and where we're going?
Dr. Lisa Higgins and Ms. Debbie Bailey, MFAP Folk Arts Specialist, have both been with the MFAP for almost twenty years. As anyone who has ever attended MFAP programs can attest, Bailey and Higgins have made an important difference, not only in the lives of storytellers, but in the lives of musicians, chair caners, cooks, dancers, john boat builders, and other traditional artists who are trying to sustain their traditions.
If you have or know of anyone who has a traditional art to pass on, contact the Missouri Folk Arts Program by calling 573/882-3653 to see if you qualify for Missouri's Traditional Arts Apprenticeship Program.
Angela Williams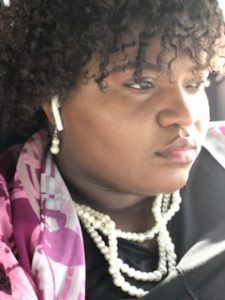 I am the last apprentice of Dr. Gladys Coggswell. I was her apprentice two years in a row. I've had a unique opportunity to watch and learn from her for fifteen plus years through the art of storytelling. Traditional storytelling has unique ingredients to bond people for life. Telling family stories, sharing traditions, and cultivating friendships are simple yet uncommon methods to being a master storyteller or apprentice. This recipe I found evident by watching and listening to the Then and Now: Apprentice Journeys interviews of Loretta Washington (2016), Dr. Coggswell (2017), and Deborah Swanegan (2018). It all began with Coggswell. She was  the common denominator in every interview.
Dr. Lisa Higgins and Debbie Bailey have watched and also nurtured me and many apprentices. They, too, play an instrumental part into the development of common folks like me given an opportunity to hone traditions, some of which may be rare. MFAP's staff members encourage by providing opportunities, documenting progress, and  fostering feedback.
To actually hear these three master storytellers share their experiences with TAAP from the stage felt like deja vu. I was transported back in time to Coggswell's yellow house in Frankford, Mo. where Loretta Washington and I sat and listened to, read, collected, and learned stories. Back then, I dreamt of the day I would follow my mentor's footsteps. There was such respect given from Washington and Swanegan from the stage towards Coggswell for her contributions to their storytelling careers. They, too, used similar methods that were taught during their apprenticeships. There were even parallels between Coggswell stories and certain parts in each teller's stories.  Both Washington and Swanegan shared stories about their grandmothers and how important they were to them in their adulthood. Just as Coggswell has shared stories of how her great grandmother disciplined her with stories. Coggswell made her footprint.
Dr. Coggswell has done so much for the storytelling community. Her belief in the power of storytelling is not only evident in my growth, but also through the success of all of her apprentices. Since her stroke in 2005, at times, it appeared to me that the storytelling community might have forgotten about her greatness, her footprint, her impact, and the need for her wisdom and heartwarming stories filled with laughter. With the Then and Now events co-produced by MFAP and SLSF, I think we were reminded. The unselfishness, the laughter, songs, food, the editing of stories that were done in the kitchen, at the conferences. Dr. Coggswell's body may fade, but her voice still teaches, and it will remain a viable tool as long as she lives. I am glad I was able to attend and also be a part of MFAP, Missouri's storytelling community, and their history. As long as I live, I plan to tell stories and to teach others so our ancestors will live on and on and on.
Related