"EAT, SLEEP, FOLK, REPEAT," A VISIT TO THE KANSAS CITY FOLK FEST, BY LISA L. HIGGINS
Welcome back to Stories from the Field at our Show-Me Folk blog. The blog is our dedicated space for staff, student workers, traditional artists, cultural experts, consultants, and community scholars to share photo essays on an array of topics in Missouri's traditional arts and folklife.
"EAT, SLEEP, FOLK, REPEAT"
A VISIT TO THE KANSAS CITY FOLK FEST
by Lisa L. Higgins, director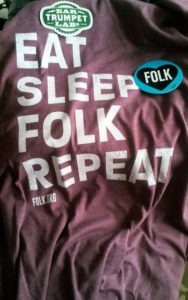 "Eat, Sleep, Folk, Repeat" is the motto printed on the new Folk Alliance International t-shirts, which I found for sale in the Westin Hotel at Crown Center this weekend. On Saturday afternoon (2/17), I visited the Folk Alliance Conference, the last day of the 2018 performing arts event. This conference, which opened 2/14 and closed 2/17, is Folk Alliance International's major effort to fulfill its mission to nurture, engage, and empower the international folk music community – traditional and contemporary, amateur and professional – through education, advocacy and performance. This year was extra special–the 30th anniversary of the organization [and the fifth anniversary in Kansas City, Missouri].
Upon grabbing my registration badge and tote bag, I hurried up to the Exhibit Hall in its last hour of operation because I especially wanted to visit the Ear Trumpet Labs booth, staffed by father-daughter team Philip and Malachi Graham. I've heard about Ear Trumpet Labs over the last few years and have visited the website, but not because the Missouri Folk Arts Program is in the market for a hand-crafted microphone. I've been following Ear Trumpet Labs because Philip and Malachi are the brother and niece of Folklorist Andrea Graham, a long-time independent contractor in our field, who has produced amazing work in several states, the last 30 in the Intermountain West. Now, Andrea is the Folklife Specialist in American Studies at the University of Wyoming in Laramie. I was happy to meet Philip and Malachi in person, after hearing Andrea brag about them. They told me they were having a great conference, and Malachi noted that they were worn out, apparently living up to the motto on that t-shirt by catching as many performance showcases as possible. Showcases may be the heartbeat of the Folk Alliance conference, with official showcases on stages from 6-10:30 p.m. and private showcases from 10:30 p.m. – 4 A.M.! During the day, in addition to the Exhibit Hall, conference participants can attend meetings, workshops, film screenings, and receptions. I also noted the signs for the 10th annual Health Fair, a thoughtful and necessary service, especially for independent, touring musicians.
After exiting the Exhibit Hall, I noticed a long line already formed outside the room for the closing guest speaker, Grammy-awardee Mary Chapin Carpenter. First in line was Missouri's own Marideth Sisco–master Ozark storyteller, journalist, community scholar, film adviser, gardener, and singer-songwriter. I was not surprised to run into Marideth, as I'd heard she intended to be at the conference to personally promote her newest album, Empty Doors, recorded with her "accomplices". Running into Marideth outside the door for Mary Chapin's talk illustrated for me in one moment the breadth of the conference's constituents.
As Marideth and I caught up briefly, Folk Alliance's Business Development Manager Alex Mallett walked by with purpose and a two-way radio. He is my direct contact with Folk Alliance in my role as Folk Arts Grants Program Specialist for the Missouri Arts Council. Folk Alliance International is a non-profit organization that is funded with membership fees, earned income, private donations, corporate sponsorship, and federal, state, regional, and municipal grants, via the National Endowment for the Arts, the Missouri Arts Council, Mid-America Arts Alliance, and ArtsKC.
That Folk Arts grant from the Missouri Arts Council actually supports a separate, but related, event. With relocation to Kansas City from Memphis, Tennessee in 2014, Folk Alliance committed to hosting the conference in KCMO for five straight years, before returning to its tradition of hosting the event throughout North America. As a new arts neighbor, Folk Alliance sought avenues to connect locally; one result is its Kansas City Folk Fest, which has been staged inside the conference hotel on the Sunday following the close of the annual conference. Folk Alliance takes advantage of an amazing network of performers attending the conference to fill the festival's four stages, with a range of artists, including Missourians like Walnut Valley Finger Picking finalist Kelly Werts and Latin bolero ensemble Trio Aztlan.
I checked out the vendors and organizations in the mezzanine area outside the hotel ballrooms (that's where I picked up the t-shirt pictured here). I was excited to see a banner and table for the Kansas City Irish Center. Executive Director Nancy Wormington was staffing the table, and I was happy to meet her in person. Earlier in that same week, I had corresponded with one of her board members about MAC funding. Nancy shared information with me about the Irish Center's history, programming and home at Drexel Hall. I look forward to working with Nancy and KCIC next year on a grant proposal for MAC Folk Arts Grant.
After my chat with Nancy, I found a seat at the 2018 Main Stage, arriving in time to see rousing performances by the Celtic ensemble Searson (Ontario, Canada) and National Heritage Fellow Flaco Jimenez along with Max Baca and Los Texmaniacs (San Antonio, Texas). My favorite Main Stage performances were: 1) when Erin Searson left her electric piano and broke into traditional Ottawa Valley Stepdancing; 2) how Max Baca (bajo sexto) and nephew Josh Baca (accordion) demonstrated the early 20th century Mexican, German, and Texan intersections that created conjunto; and 3) when Baca and Jimenez performed songs from Flaco & Max: Legends and Legacies, a Smithsonian Folkways recording produced by my colleague Daniel Sheehy.
After the closing set on the Main Stage (Mary Chapin Carpenter), I ran into Alex Mallett again, and we discussed the 2018 conference and festival. He definitely looked ready for more eat and sleep, less folk and repeat!
Next year, the conference will move to Montreal, and Alex explained that the KC Folk Fest will transform–moving to an outside venue in Kansas City to a warmer month and featuring even more local and regional folk & traditional music.
I can't wait!
******
Via YouTube videos, here's a taste of the artists I saw at KC Folk Fest:
Kelly Werts: https://www.youtube.com/watch?v=ya2NqsSfgqo
Trio Aztlan at the Nelson Atkins in 2015: https://www.youtube.com/watch?v=GHvl-fqw7hc
Los Texmaniacs at Texas Folklife's Big Squeeze: https://www.youtube.com/watch?v=_ODCX8Dl43E 
Searson at the Inverness, Florida Historic Courthouse: https://www.youtube.com/watch?v=uFhT8lqLUdc
Flaco Jimenez at the 2012 National Heritage Fellows Concert (scroll to the bottom for video): http://www.mastersoftraditionalarts.org/artists/373
Related