A Tribute to Donald Cox, 1944-2015
Donald Cox, an Elder Statesman of Kansas City Jazz, recently died unexpectedly.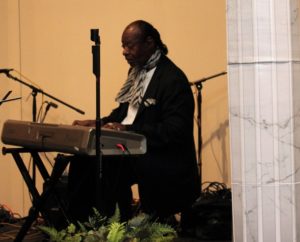 In 2002, Mr. Cox served as a master artist in the Traditional Arts Apprenticeship Program, where he mentored young pianist Oscar Williams, III. Mr. Cox told us that he grew up near 18th and Vine, the historic heart of jazz in Kansas City, and he started playing piano at age 10. By age 14, he began to visit the Mutual Musicians Foundation for the epic late night jams. He had the opportunity to play over the years with the likes of Willie Rice, Jay McShann, Fiddler Williams, Sonny Kenner, Ahmad Alaadeen, Luqman Hamza, and so many others.
At the Missouri Folk Arts Program, we were so honored that Mr. Cox, his wife Patricia "Princess" Lyons Cox, and their band "A Touch of Class" performed at a 30th anniversary event for the apprenticeship program just last November at the Bruce R. Watkins Center. Friends and family will honor Mr. Cox at a funeral this Saturday, November 21, 2015 at 12:30 p.m. at the Watkins Brothers Memorial Chapel in Kansas City, Missouri, followed by a memorial jam at 3:00 p.m. at The Blue Room at the American Jazz Museum. Our most sincere sympathies to Patricia, family, friends, and fellow musicians.
Related