Folk Arts in Education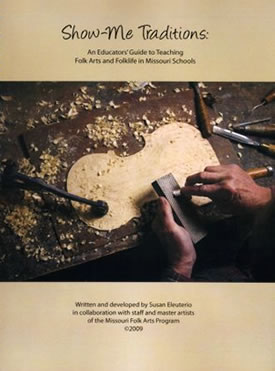 MFAP's most long-lasting educational project is "Tuesdays at the Capitol," a collaboration each April with the Department of Natural Resources' Missouri State Museum in Jefferson City. The primary audience is school children who tour the Capitol each spring and fall, usually fourth and fifth graders who study Missouri history, government and culture. "Tuesdays" gives children the opportunity to observe artists as they work, to touch instruments, tools, and objects—and to ask questions.
MFAP also developed and published Show-Me Traditions: An Educators' Guide to Teaching Folk Arts and Folklife in Missouri Schools (cover, above), a fifty-page guide that includes grade level expectations, Missouri "Show-Me" educational standards, objectives, outcomes, lesson plans, definitions, student-ready handouts, photographs, and links to numerous online and printed resources. The Folklore & Education section of the American Folklore Society awarded the Dorothy Howard Prize for the guide to MFAP and author Susan Eleuterio in 2011.
The Dana Foundation awarded a generous Arts Education Rural Initiative grant to the Missouri Folk Arts Program to train folk artists as teaching-artists for K-12 schools. Folk arts and artists can provide curriculum enrichment as teachers strive to meet state and federal education standards. Artists learned to work with educators and students, to develop curriculum materials, and to present school programs, including residencies. To inquire about teaching-artists, please contact MFAP staff.