Learn More about Legends & Lore Marker Grants
Missouri's first Legends & Lore Marker grant has been installed!
William G. Pomeroy Foundation

awarded a grant to the

University of Central Missouri

's

McClure Archives and University Museum

in Warrensburg, marking the legend of the Yeater Ghost. Professor Laura J. Yeater taught at UCM, and she actively raised funds to build the university's first women's dormitory.
"Some claim Laura J. Yeater or another spirit haunts this dormitory opened in 1941. Ghostly activity is reported often on the third floor." Learn more about the UCM legend at the link: https://www.wgpfoundation.org/historic-markers/yeater-ghost/
Does your community share legends and lore about local myths, tall tales, place names, ballads, or ghost stories? The deadline for Round 2 Legends & Lore applications is October 11. There's still plenty of time to draft and submit an application at https://www.wgpfoundation.org/history/legends-lore/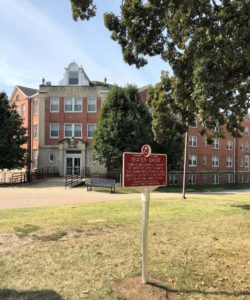 Yeater Ghost Legends & Lore Marker installed in Warrensburg at University of Central Missouri outside the historical Laura J. Yeater Hall
Established by the Pomeroy Foundation in 2015, the Legends & Lore program helps communities celebrate local folklore and legends with roadside markers. MFAP will serve as a grant evaluator for the Pomeroy Foundation's expanding national Legends & Lore Marker Grant Program, helping to put Missouri folklore in the spotlight. The Pomeroy Foundation is a private grant-making foundation based in Syracuse, New York. The Foundation helps people celebrate their community's history through a variety of historic roadside marker programs, including Legends & Lore. The Foundation's grants cover the entire cost of a marker, pole, and shipping.
"The Pomeroy Foundation is pleased to partner with the Missouri Folk Arts Program on our expanding Legends & Lore program," says Bill Pomeroy, founder and trustee of the Pomeroy Foundation. "We feel this is a wonderful opportunity to showcase the folklore near and dear to Missouri. We're proud to work with your communities in celebrating and preserving your folklore and legends."
Legends & Lore marker grants are available to 501(c)(3) organizations, nonprofit academic institutions, and local, state, and federal government entities in Missouri. The Grant Round 2 application deadline is Monday, Oct. 11, 2021
Related