Traditional Arts Apprenticeship Program Applications WERE Due August 31, 2019
DEADLINE FOR 2019/2020 APPLICATIONS HAS PASSED. 
At the Missouri Folk Arts Program, our new year starts on July 1, and the first few weeks are all about the Traditional Arts Apprenticeship Program. We draft grant proposals to request funds for TAAP in Fiscal Year 2021. And, we invite exemplary master artists and their prospective apprentices to submit applications for the most recent year of TAAP. We recently mailed out a couple hundred postcard announcements: the TAAP application is available. You can download a PDF here on our website (or request a PDF be emailed to you, or request a print copy be sent via US Postal Service).
If you know master folk artist and apprentice teams in Missouri who hope to sustain their traditions for the future, can you tell them about the Missouri Folk Arts Program? Send them here to access applications, which are due August 31, 2019.
In the application, artists will find definitions of key terms that guide the project, step-by-step instructions, and the criteria TAAP panelists use to review applications. We require each team to submit a four part application: 1) master artist; 2) apprentice; 3) work plan with budget; and 4) work samples.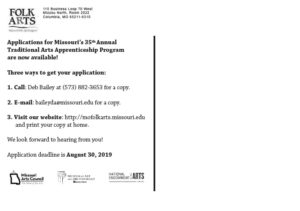 Assistance is available from our Folk Arts Specialist Deb Bailey. We encourage artists to start the conversation with her sooner than later. She is available to fully review drafts of applications submitted to her by August 9, 2019.  Deb's contact information is included on the first page of the application. Check in with her Monday – Friday via email or phone.
Related